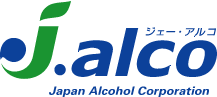 Corporate Philosophy
We, the Japan Alcohol Corporation,
Will focus our attention on alcohol manufacturing,
And provide our customers with a stable and smooth supply of products.
Along with contributing to the development of alcohol related industries,
Based on our accumulated technical prowess and creativity,
We will contribute to the lifestyles of people around the world through the diversification of our alcohol-related operations.

Corporate Vision
We hereby pledge our corporation is:
A company that always aims for world-class factory management;
A company that always bolsters its customer's peace of mind by supplying the safest products;
A company that is home to employees with a reformist, challenge-oriented mindset; and
A company that is proud of its management policies based on equality and fairness.

Management Policy
+ Develop and provide products that satisfy customer needs.
+ Place focus of company product structure on alcohol.
+ Never accept compromises with product quality.
+ Construct, maintain, and always strive to keep the best practice of alcohol manufacturing, as well as our quality control and assurance systems.
+ Aim to always improve corporate value.
+ Provide appealing compensation and benefit packages based on employee aptitude and achievements.
+ Respect and conform to corporate ethics.